About Us
WIL FILM  is one of the leading film production companies in Denmark.
We are passionate creators of quality entertainment for young audiences around the Globe. From our Copenhagen based studio and through intensive cooperation with animation studios in China, India and Malaysia our work focuses on high quality animation.
Internationally acclaimed TV series & specials, features, shorts as well as commercials is what WIL FILM is about. 7 seasons of the outstanding TV series 'Ninjago: Masters of Spinjitzu' and several 'LEGO Star Wars' productions are under our belt. As well as the feature 'Otto is a Rhino' –from the film trilogy produced in collaboration with Crone Film– winner of the Best Animated Feature Award at Chicago CFF 2013.
This is all happening with roots in an international approach to solutions, partners and quality.
Team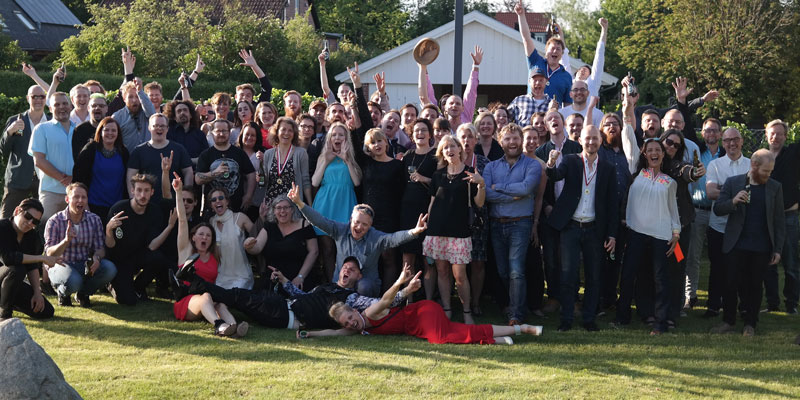 Our great team includes experienced management, CG and live action producers, directors, award winning artists and technicians all working side by side shaping the ideas that will give life to something that started on a solitary empty space.
WIL FILM's CG pipeline is based on Maya animation platform and our talented crew works with NUKE and After Effects for image compositing and visual effects. We are versatile and prepared, both technically and artistically, to take on the constantly evolving challenges in the dynamic entertainment industry. Combining our individual skills we have the capacity to adjust to a production's specific needs and we always deliver the best and on time.

Studio

Our studio is the primary home where to our ideas, events, creativity, productivity and at times struggle are formed, always leading to great success.
The old redbrick factory building BOPA HOUSE accommodates WIL FILM and acts as the strong base for our worldwide operations. Placed in lovely Østerbro –Copenhagen– conveniently close to great restaurants and just up the street to the cozy "Bopa Plads" featuring a couple of our favourite places to spend a little time after work with the colleagues. …more
The studio is infused with state of the art IT infrastructure, ensuring a fast, stable and ever-running environment for our artists. Our servers and renderfarm are conveniently placed off-site at high-end data centers, allowing us to easily and safely expand to meet productions needs. The primary software foundation is based on Autodesk Maya, The Foundry Nuke and the Adobe Packages (Photoshop, Premiere).
The building is also conveniently shared with our long time collaborators: the leading Sound & Music effects company JAM and Post Production studio CAMEO.
CRUX
CRUX is WIL FILM's proprietary production system.
The system controls how data flows into, within and out of our studio. CRUX is present in all steps of our productions and operations and helps strengthen and define our workflows.
CRUX continuously guides our artists in their work, providing them with the materials and info they need. Once they complete their task it helps to ensure that their work is prepared for the next steps in the production, ensuring stability in the production chain. Many of the more trivial tasks are handled by CRUX, allowing the artists to instead focus on the creative tasks that they do so well. …more
The system provides our production personnel with realtime view of a project's status, allowing them to have an overview at any given time over the overwhelming amount of info that is needed in projects of the nature we are running. CRUX facilitates massive portions of the communication with both our clients and sub-vendors enabling clients and supervisors to evaluate elements of the production whenever and wherever.The CRUX system never sleeps. When the lights go out and our crew leaves the studio, the system continues to handle the exchange of information and data in and out of the company, ensuring that once the crew gets back the next morning content is already made available, enabling our productions to span across the world with a minimum impact on turnaround and productivity.
The dedicated Development Team at WIL FILM is continuously watching over worldwide technology development while constantly consulting with the crew about production wishes and adapting to the ever changing production needs, providing a system that is tailored to the needs of the studio and our productions.